City of Neighborhoods Exhibit
Posted March 24th, 2014 by Jill Silverberg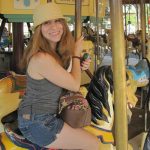 This past Saturday, the map gallery where I work, the Leventhal Map Gallery, premiered their newest exhibit to the Boston public. The new exhibit, City of Neighborhoods, celebrates the racial and ethnic diversity of the city of Boston. While the former exhibit, Made in Boston, had featured antique maps of both Boston and the New England area from the late 1600s through the 1700s, this exhibition "Compares the neighborhoods of today's 'new' Boston with those of 100 years ago." Through the use of photographs and maps, the exhibit is colorful and enlightening. As music representing the cultures that form the social fabric of Boston plays in the background, one can see the areas where newer immigrant groups have settled and how the physical appearance of the city had changed to reflect those who live and work there.
As part of Saturday's opening, the map gallery pulled out 
all the stops. In a separate room, we had activities for families with children while a band played music from Cape Verde. For many people who attended the event, this was the first time they had ever realized just how diverse the city was. A few people approached gallery attendants like myself and inquired about the location of Cape Verde since they had never heard of it before (it's off the western coast of Africa in case you are wondering). While children created their own bookmarks using scraps of old maps and/or decorated their own map with stickers, parents and other attendants labeled two maps, one of Boston and the other of the world, with Post-Its as a means of identifying not only the area of the city in which they were from, but also where in the world they drew their ethnic and racial identity from.
This was the first new exhibit to come into the gallery since I started working there back in Febuary and I have to say, setting it up was an absolute blast! While I didn't get to handle any of the antique maps from the previous exhibit, I did get to see what it takes to set up an exhibition. Detail truly is everything!  From the placement of photographs and images to the angle that newspaper is placed, my co-workers took great care in ensuring that everything in the new exhibit was placed in a fashion that would be appealing to the public eye. Since I'm rather petite, my co-workers kept asking me to stand in front of an exhibit and offer my insight on whether something was too high or too low.
City of Neighborhoods will be at the Leventhal Map Gallery from March 22nd-August 22nd. If you happen to need something to do on a weekend, stop on by and check out the exhibit.