Baking a little bit of springtime
Posted March 4th, 2014 by Jill Silverberg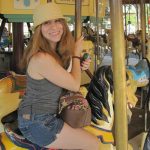 Normally, I am a very big fan of winter. Snow, ice, the cold; I love it all. Or I used to. Although I am no stranger to New England winters, this year, the winter seems longer, colder, and snowier than ever before. And normally, I wouldn't be complaining. However, it seems my love for winter has waned over the course of these past few months. I guess the same would happen to anyone after experiencing temperatures in the single digits for almost two straight weeks and a seemingly never-ending bombardment of snow storms. Indeed, I am so done with winter that I am actually keeping track of how many more days are left until spring (fifteen days to go!).
Although it seems like it is forever and half away, soon (hopefully) all the snow will be gone, the flowers will bloom, and most importantly, it will be WARM. And to help get myself amped up for the upcoming warm weather, I decided to bake a springtime dessert this past weekend, just a little something to help remind myself that soon, the warm spring sun will be shining down on me. And I have to say, when I pulled my gooey lemon blondies out from the oven, I did indeed feel like a little bit of springtime had crept into my kitchen. And of course they tasted like absolute sunshine as well (minus the burning sensation that would happen if we all actually tried to take a chomp out of the sun). Everything about these simple, citrus treats just screams springtime.  And when I say simple, I mean SIMPLE. There is a total of six ingredients in this recipe, eight if you include the two ingredients needed to make the glaze. That glaze by the way, is amazing! The flavor is just the right amount of sweet and tart. However, the blondies without the glaze are still simply divine. Either way, one bite of these sunny little beauties and you will feel like springtime has finally come at last!
Gooey Lemon Blondies
Recipe from the-baker-chick.com
Ingredients
¾ cup flour
¾ cup sugar
¼ teaspoon salt
1 stick butter, soft
1 egg and 1 yolk
juice and zest from ½ lemon
Glaze
3/4 cup powdered sugar
1-2 tablespoons lemon juice
additional lemon zest for sprinkling
Instructions
In a large bowl, cream together the butter and sugar until smooth and pale. Add the egg, yolk, juice and zest and mix until well combined.
Sprinkle the flour and salt over the wet ingredients and mix on low until well combined – (do not over mix)
Pour batter into a greased 8×8* baking pan and bake at 350 for 25 minutes, or until the edges are just golden and the center of the pan is set. Cool bars before glazing.
For the glaze:
Stir the powdered sugar together with the lemon juice (1 tablespoon to start, adding more if needed) until a smooth consistency is reached.
Spread glaze over the bars and top with lemon zest. Makes about 16 bars
*I used a pan slightly larger than an 8×8 so I just made a second round of batter and poured it on top of the original because I was worried it wouldn't be thick enough. You don't need to do this if the batter looks thick enough to you*