Monday with Julia Child
Posted February 24th, 2014 by Jill Silverberg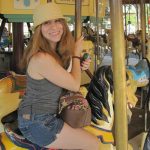 This past Monday I ventured over to the Schlesinger Library, which is part of Harvard University's Radcliffe Institute for Advance Study. Although I was making this trip for research purposes, I won't deny my excitement about getting to handle the papers and letters of THE Julia Child! To begin with, this was the woman who not only taught America how to cook, but she was part of a food revolution that helped pull America out of its bizarre obsession with disgusting Jello-molds and pre-packaged foods. Going beyond that, this woman is somewhat of a role model to me. Like her, I went through most of my relatively short life not totally sure of what I wanted to do. Just like her, I tried different things, each fun but never quite providing me with the level of fulfillment of satisfaction that I was searching for. But then, I discovered how much I loved baking, and a passion began to grow. Sure, I didn't have the same degree of a food epiphany that Ms. Child had when she had her first meal in France (which for those of you who don't know, consisted of oysters and sole meunière) but the same principle applies. For me, my food revelation occurred during Thanksgiving 2011, the Thanksgiving that I decided I was fed up with my mom always doing the baking and that I wanted to try my hand at it. Of course I had had done some baking before, who hasn't popped open a box of brownie mix in the past? But this time, something was different. As I prepared the recipe, I found myself enjoying the kitchen science that I was performing. I was literally taking separate things, combining them, and creating something new. Not just new, but delicious as well. From then on, I became obsessed with food.
Why am I telling you all of this? Because this passion of mine is what led me to the Schlesinger Library Monday morning. You see, in the history course that I am taking for the dual degree, I need to write a 20+ page paper on any topic I want as long as it occurred in the post WWII era. After some careful thinking (okay, maybe more like frantic), I came up with a topic that I knew I could do justice. For the paper, which will most likely be later incorporated into my history thesis, I will be writing about American food culture in the 1950s and 1960s and its reflections of gender roles. Since my inspiration of the idea came from a discussion I had started in class related to Julia, I knew that I wanted her to be a part of my paper. Her cookbook Mastering the Art of French Cooking came out at a time when American food culture was in desperate need of a change. Not only was her cookbook directed at the average American cook, it also encouraged them to break their habit of using pre-packaged, pre-made junk. Additionally, her cookbook is gender blind. I've skimmed through my copy and I could not find one instance where Julia or her co-authors make it explicit that this cookbook is for women or men only. The impact of her cookbook and her cooking show, The French Chef, impacted Americans greatly, all of which is documented in the many boxes of fan letters, personal correspondences between Julia and friends, and other documents that the Schlesinger Library has in its collection. For me, holding a letter written by Julia for her dear friend Avis De Voto that discussed various recipes for sauces felt like I was holding a piece of culinary history. Talk about fulfilling a fan girl's dream!
If you are like me and are somewhat Julia Child-crazy, then you too should plan a visit to the Schlesinger Library. They do have a variety of other collections that are worth exploring as well, including a quite large historic cookbook collection (something that I will be examining in the very near future). The Schlesinger Library is located about ten minutes from the Harvard T stop so you could totally pop in for a visit the next time that you are in the area. If you need a cafe suggestion, I strongly suggest stopping by Crema Cafe, which can be found along the way. It can be a little bit crazy in there, but the coffee and pastries are worth it. Who knows, maybe you too will have a food epiphany just like Julia?
Bon Appetite!