Weekend at the Boston Public Library
Posted February 17th, 2014 by Jill Silverberg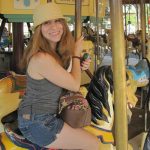 Sitting right outside of the Copley T stop are two connected buildings that couldn't appear to be more different. The first building is old and scholarly, the type of historic landmark that is almost begging to have its picture taken. Its classic charm makes one feel as if they are about to enter some sort of sacred place, an historic institution where knowledge is both value and shared.  The second building seems to lack the romantic charm of its brother although that does not seem to hamper its popularity amongst the general public. Everyday, a wide range of people pass through this modern building's rotating door, each looking for something different amongst the building's vast collection and other offerings. Although both buildings might appear to be aesthetically different, they are actually one in the same. Together, these two buildings make up the Boston Public Library.
Over this past weekend, I had the pleasure to visit the BPL not once, but TWICE! Starting with Saturday, I took a friend who's lived in the city for the last three years; this was his first time ever stepping inside the BPL. I had to remind him that since he's friends with someone working towards a degree in Library and Information Science, he should expect more library-based adventures in the near future. A self-proclaimed 'non-reader,' I had never expected my friend to enjoy the library as much as he did. In fact, I think he got more into it than I did. Together, we strolled through the McKim Building, also known as the research part of the library. To give you an idea of what the McKim Building looks like, imagine a smaller version of the New York Public Library, complete with beautiful murals and ornate details. And the books! There were so many beautifully old books scattered about the three story building I didn't know where to look first. Of course, all of these antique beauties were kept locked up so all I unfortunately could do was stare longingly at them through old glass. But still, I wasn't going to let such a minor detail interrupt my fun. Together, my friend and I poked our heads into each and every room, most of them containing non-circulating research materials and very studious patrons. Even my non-book loving friend ended up confessing that the BPL was a pretty cool place to check out.
As for my second visit, the two of us spent the bulk of our time exploring the Norman B. Leventhal Map Center, which coincidentally is the same place that I work. Currently enrolled in a Master's program at Clark University studying Geographic Information Development and Environment, she thoroughly enjoyed the map center. My eyes might glaze over in awe when I stare at gorgeously old books, but my friend, she nearly swooned at the sheer collection of maps that the Leventhal Map Center has at its disposal. Just to clarify, the map center happens to have in its collection about 200,000 maps and 5,000 atlases, the bulk of which has already been digitized and can easily be accessed online. All you map fan boys and girls should plan a visit to this overlooked gem ASAP. While we did venture over to the Johnson building, which houses the BPL's circulating collection, we did spend most of our time in the map center, flipping through some of the many atlases that can be found in the research center, located right behind the gallery itself.
For those of you who haven't yet had a chance to check out the BPL, I strongly suggest you should. Besides its extensive reference collection, the library frequently offers programs for people of all ages, and often has at least two special exhibits on display.