The Super Bowl from the Perspective of a Non-football Fan
Posted February 3rd, 2014 by Jill Silverberg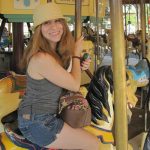 I'm not going to beat around the bush, I am not really big on this whole football thing. Don't ask me why, because I can assure you that at age 22 ½, I'm still trying to figure it out. My three other roommates, on the other hand, are about as nuts about football as cats are to cat nip. Every Sunday evening, they can found in our common space with a game on (because there is always a game on, somewhere), surrounded by chips, dip, and beer. Like the fans in the stadiums, they hoot, they holler, they make snide remarks about the opposing team. Even from the perspective of someone who would much rather listen to silence than hear a baseball game broadcasted over the radio, my roommates somehow always managed to make whatever they are watching seem like they are watching the greatest show on earth. And so, after months and months of listening to their weekend hoopla, I found myself Sunday night, over at a mutual friend's apartment watching the Big Game. So what did I think?
Well, for one thing, whenever there is something that is being projected onto a massive projection screen, you are inevitably going to get invested into whatever you are watching. My foolish hope of maybe getting some GSLIS homework done while watching the game was discarded within the first five minutes, especially after the Seahawks scored that early touchdown. As for the rest of the game, I'm not going to lie, I really got into it. I blame this partially on all the hype that surrounded the Denver Broncos and Peytone Manning. All I had been hearing throughout the football season was how amazing the Broncos offense was and that the game was probably going to lean towards the Broncos favor. As for Manning, I've only ever heard his name in passing, and never really knew much about the football star until recently. Going into Sunday, I was being told left and right that this time, Manning was going to be walking away with the trophy that had eluded him in the past. None of my friends at the time mentioned anything about one team dominating the other; in their opinion it was going to be a close game no matter what. Is it strange that I'm happy that all of my friends' predictions were wrong? I've watched a few football games before and personally, I found the Seahawks' almost shut out to be the most exciting and interesting game that I've ever watched. The same could be said if things had been the other way around.
I'm not sure why, but I found it to be exhilarating, watching and waiting to see how many touchdowns and field goals the Seahawks could accumulate before the end of the final quarter. When the Broncos finally did score a touchdown, I had high hopes that it was a sign that the tables had been turned, that in the last half of the game, it would just be the Broncos scoring consistently. When that didn't happen, I could tell from the people around me that none of them had anticipated such a game. Even before the clock had counted down in the last quarter, most of my friends had re-focused their attention elsewhere, the game all but forgotten. Most later explained that they knew the Seahawks would win at least an hour ago and didn't really see the point in watching what they already knew was going to happen. As one of them pointed out, this was a great game for newbies to watch, though he warned me that most games never play out like this. I'm not sure if this year's Super Bowl has finally gotten me to drink the metaphorical Kool-aid or not, but I do know that maybe next season, I'll make more of an effort to actually sit down and watch a game from start to finish. Who knows, maybe by this time next year, I'll be that person wearing my favorite team jersey and shouting ridiculous things at the TV? That would certainly be something to see.