Academic Peace at Last: Finding that Place to Study
Posted January 20th, 2014 by Jill Silverberg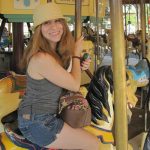 For those of you who might not know, I am a commuter student. While I did have the option of living on Simmons campus, I opted to rent an apartment right outside of Boston in the Brookline/Brighton area. I've included the slash since my apartment is located in a place that if I take two steps to the left I'll be in Brookline. Now don't get me wrong, I deeply love living in an apartment; it allows me to feel like I'm one step closer to entering the world of being a working professional without actually entering the professional working world. However, as much as I love living a few T-stops away from the hip and happening place that is Coolidge Corner, there are quite a few luxuries of living on a college campus that I truly miss. While I could create another list featuring the five things I miss the most about a college campus, I will save that for another time. Rather, I think I am going to talk about the one thing that I really miss, something that without, I doubt that I would be enrolled in Simmons today. And that, my friends, is the perfect study space.
Contrary to popular belief, the perfect study space does not have to be the quite floor of your academic library or the confines of your dorm/campus owned apartment. For some of my friends back in Worcester, their preferred studying space was this social and academic space located right beneath our school's library. For others, they enjoyed going down to a local café, getting a hot cup of cocoa and buckling down with books and papers for hours on end.  As for myself, I was the type of student who enjoyed finding a nook in the library that was equal parts quite and social. For the last two years of college, I could be found in my little nook for at least a minimum of six hours a day on a given weekend. Back then however, campus wasn't a thirty-minute commute. I just needed to walk five minutes and BAM! I was in study central.  While last semester I would make the occasional trip to Beatley to get some work done, I spent most of my studying time in my room; not my preferred space, but it would have to do.
However, this semester, the study gods seem to have heard my prayers because I have hit the jackpot in regards to study places. Located right within Coolidge Corner is the newly opened Knight Moves, a board game café that features the type of chill atmosphere that anyone looking for a good balance of the quite but social would love. Although just recently opened, Knight Moves is slowly making a name for itself in Coolidge Corner as a place where one can go for a relaxed atmosphere peppered with touches of steam-punk and either get into that study grove or spend time playing one of the 300 hundred plus games that owner Devon has on hand. 
As someone who has been craving such a space for the last four months, to me, this is truly a godsend. This past Sunday I camped out at a small table with a delicious mocha with my homework for over four hours. Every now and then, Devon would come over and chat with me, telling me more about the business and his goal to provide Coolidge Corner with a place where people can either come to have a cup of coffee and a pastry and hang out casually, or, for $10, come and either play a new board game, or pick up an old favorite for as long as they like. Although the place was buzzing with board game enthusiasts, I found myself in academic zen mode, reading my Reference and Information Service textbook and watching online videos for my Technology for Information Professionals (LIS 488). I not only felt relaxed, but welcomed as well; two things that I'm sure everyone wants when it comes to finding that ideal study space.
If you live in the Brighton or Brookline area and want to experience a café that would fit perfectly in any college town, then you need to come down to Knight Moves this instant. And if you don't live nearby, this is still a fun place to visit during the weekends. Bring your friends, bring your homework, you can even bring your own alcohol; you won't be disappointed. 
Knight Moves is located at 1402 Beacon St. Brookline, MA.
http://knightmovesboston.wordpress.com/