Call Numbers: Why they are Awesome
Posted November 26th, 2013 by Jill Silverberg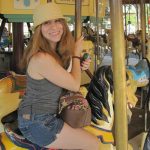 For those of you who don't know, when one enters the Simmons GSLIS program, there are a number of core classes that they must complete. Besides an introductory course, LIS 401, there is another core course that they suggest we take in our first semester, LIS 415, Information Organization. Within LIS 415, we learn about the processes behind information organizations, which includes topics like classification, descriptive metadata, and resource types. Whenever I'm asked by my non-library friends to describe this class, I summarize it by saying that, essentially, we are learning all the behind the scene processes that make a library function that way it does. Amongst the variety of things that help ensure that a library isn't one massive chaotic mess, librarians use call numbers to make sure that every book has a place on a given shelf. If you have ever gone to a library to find a book, then I am sure that you are acquainted with call numbers. Without them, it would be like trying to find one specific needle in a stack of a million needles.
Fortunately for us, most, if not all libraries, have some form of call number system. Some libraries use Dewey, others use Library of Congress; a few even use their own personal classification system but at the end of the day, they all do the same thing: they help us find the thing that we are looking for. Now until I took LIS 415, I never gave call numbers a second thought. However, after spending a weekend creating Dewey and Library of Congress call numbers for an assignment, I think they deserve a bit more credit.  Seriously, think about it this way: imagine trying to find a book on cooking French cuisine but you do not have any idea where to start. There is no master plan depicting where cookbooks are shelved and the books aren't organized by author. How in the world are you going to find it? Perhaps through the power of patience and careful reading, you would eventually find it; do enough shelf reading and you can find anything. Thankfully, we don't have to resort to such measures. Thankfully, there are classification systems that provide us with maps to our designated destination.
So the next time you are in a library and trying to find a book, take a moment think about how wonderful it is that we have a string of numbers and letters to act as our guide.