Baking Fun!
Posted October 19th, 2013 by Jill Silverberg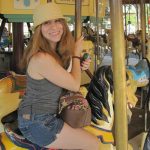 If you haven't noticed, we are already more than halfway through pumpkin month! It is kind of hard to believe that October is nearly over, meaning that I've already been a student at Simmons for two months. Time certainly flies when one is busy at work with their studies. But between learning about MARC, RDA, AACR2, and how to create a finding aid, one needs a little time to unwind. Well, considering that I love to bake and it is almost Halloween, I decided to take some time off between writing papers and MARC to try my hand at something new.
Whoopie pies are something that I have known about for a long time but have never had an opportunity to make. Well, this past week I decided to take a break and try something new. Well, the whoopies pies I ended up baking turned out to be not only phenomenal but super easy to make. So the next time you feel like taking a study break, give this recipe a try. The results are super worth it!
Pumpkin Whoopie Pies
Recipe adapted from a recipe by The Baker Chick 
Ingredients for the cookies
3 cups all-purpose flour
1 tsp. salt
1 tsp. baking soda
1 tsp. baking powder
2 tbsp. cinnamon
1 tsp. ground ginger
½ tsp. ground nutmeg
1 cup granulated sugar
1 cup dark brown sugar, firmly packed
1 cup canola oil
1 15 oz can of pumpkin puree
2 large eggs
1 tsp. vanilla extract
For the Filling

3-4 cups powdered sugar
½ cup unsalted butter, at room temperature
8 oz. cream cheese, at room
In a medium bowl, whisk together flour, salt, baking soda, baking powder, cinnamon, ginger, and nutmeg.
In another bowl, whisk sugars and oil together. Add the pumpkin puree and combine thoroughly Add the eggs and vanilla and mix until combined. Slowly mix both mixtures until just combined.
With a small ice cream scoop, form a tablespoon of dough and place on baking sheet about 1 inch apart. Bake for 10-12 minutes, until the cookies are just starting to crack on top and an inserted tooth pick comes out clean. Remove from the oven and let cool for 5-10 minutes. Transfer to wire rack to cool and repeat with remaining dough
For the Filling With an electric mixture, beat the butter and cream cheese in a bowl until smooth. Add the powdered sugar, vanilla and beat until smooth. If you want to a firmer filling, add more powdered sugar.
To assemble, either pipe or use a knife to spread the filling on the flat side of one of the cookies before topping it with another cookie. Press down slightly so the filling spread. Repeat until all cookies are completed. Refrigerate for about a half an hour before serving.