Course Registration Jitters
Posted October 13th, 2013 by Jill Silverberg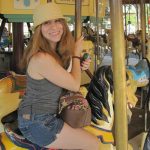 So it seems that it is already that time of the year again, that magical time when we the students are asked to pick our next round of classes for the following semester. During my undergrad years, course registration went something like this: at the end of October, the course list would be released and we would have about two or three weeks to figure out which courses we wanted to take. At Simmons, this process is a wee bit different. In the course of this upcoming week, not only will the official spring semester course list be released, but by Friday, I'll officially be registered for the spring semester. Talk about covering a lot of ground in just five days!
Although I, like my peers, do not know which courses will be offered this spring, I am thankful that I was able to sit down with my advisor to discuss registration. Fortunately, since I am still only in my first year, I still need to complete LIS 407. One class down, two to go. To make things more complicated, I recently submitted an application to the history department since I have decided that I wanted to be part of the dual degree program for archives and history. While my status is still up in the air, if I do manage to get accepted, I will need to take at least one history class next semester, preferably one of the core requirements. That just leaves me with one more class slot to fill. I have a few classes in mind though I won't share them here since I'd hate to jinx myself. However, in preparation for this week, let me leave you all with some sound advice:
If you don't get into the class you want, don't freak out.